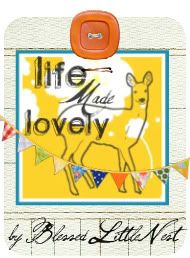 These last few weeks have worn me out.
In a good way .
Lots of family time, crafting time, being in the moment...great stuff.
Opening my shop
has been a whirlwind, trying to figure out what being a business owner is all about and how to make it successful. I have had no shortage of support and it has made me feel so incredibly loved. First my awesome sister-in-law offered to
host a giveaway
for me on her blog
Melissa Stuff
. I got my first ETSY order and have gotten three custom orders from family and friends! I have several fans on my
Ragamuffin Beauties Facebook page
, which is awesome, because I was sure it would be comprised of just family. A sweet bloggy friend,
Janet
posted about several Mom-Preneur's and included me on her
post
and gift shopping guide! Today my sweet friend
Heather
offered to feature my shop in a
giveaway
on her series, Life Made Lovely and her shopping guide...so thankful. I adore Heather for her generous nature and sweet friendship! Then on
Twitter
, my sweet friend
Shealynn
of
SheyB
gave my shop a shout out! Topping it off my kindred spirit friend,
Julie
, let me
guest post
in her sweet series, Joy's Hope hearts.
My cup runneth over.
I am blessed and I have loved feeling loved.

So thankful.

My heart is so, so, so full.
I am most thankful for my sweet nephew Mason Tyler making his debut last Friday...he is already a crowd favorite!
Thank you, thank you, thank you for everyone who has visited my shop, made a purchase, entered a giveaway, placed a custom order, blogged/tweeted/facebooked/social media'd of any kind promoted it...I am blown away by your kindness. It isn't over, because my beautiful and very pregnant friend
Rachel
, is due any day now and will be hosting a giveaway dubbed the Labor Day Giveaway and I will be part of that too! Please keep me in mind for all your handmade needs...I would love to create something special for your someone special!
XOXO,
Jenni